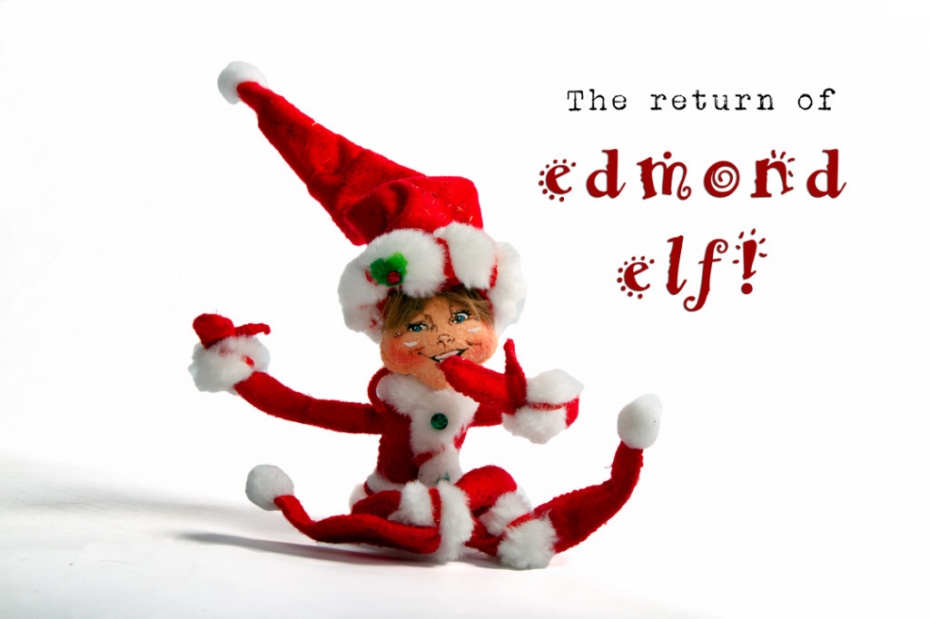 Anyone who knows me and has been to my house around Christmas time (or seen it in pictures) knows that I love Christmas.  I always have.  Thus, my children love Christmas.  And now, my children's significant others will be forced to love Christmas just like I forced my adorable, but Christmas hating, husband to love Christmas.
And, if you've been reading this blog for the last year, you will remember a little elf I acquired last season from a small retailer in a remote location in Nevada.  I thought I was adding to my small collection of stuffed elves (I was able to purchase about 4 or 5 of these cute Annalee elves at the remote location in Nevada.)  However, Edmond Elf was just a bit different.  You can go here to read more about his antics last year.
A couple of days ago I was shooting my annual Awkward Family Photos with a nice couple that I know…
And she inquired about Edmond Elf.  I remember when I was storing my Christmas decorations last year that he seemed to be missing.  I'm not sure where he has been for the last 11 months, but I did hear a rumor that he had gone to the North Pole to seek his fortune.  He tried to help Santa, but things did not work out so well, so he ended up back here.
After she mentioned his name, he magically appeared.  I think it was because he saw that I had my studio set up.  He felt that he needed to have some profile pictures taken for Facebook, so I agreed because I felt a little sorry for him after he lost his job with Santa.
My adorable, and now Christmas loving, husband was in New York for several weeks working with some of the hurricane victims and when he returned it was time to start getting my many boxes of Christmas decorations down from the attic.  Then, as I was working on some editing, I heard a little rustling in the room where the Christmas boxes were stacked waiting to be opened and the contents removed.  One of them happened to be my stuffed Christmas Characters box.  When I walked into the room here's what greeted me:
And so I watched:
And watched…

At this point, these little elves were just glad to be out of the box and were looking forward to doing helpful elf-like work.  Edmond suggested that another elf should be helped out of the box at the same time.

Soon, there was quite a collection of interested parties.  I felt like I was witnessing a soon-to-happen train wreck, but I just couldn't tear my eyes away.

And sure enough, Edmond couldn't quite hold on to both elves and he lost his grip and…they were dropped dropped to the floor.  I think I heard Edmond cry out, but these elves are only stuffed with cotton and wire, so there were no bones broken.
Edmond called out to make sure the other little elves were okay, but they were already scurrying off to see what kind of Christmas work needed to be done.
And this is how it begins around here…
(Stay tuned and check back frequently)
If you want your own Awkward (or non-awkward) family photo session, contact me at schmautzhaus@sbcglobal.net.  Edmond says you can add him to your photo session at no additional cost.