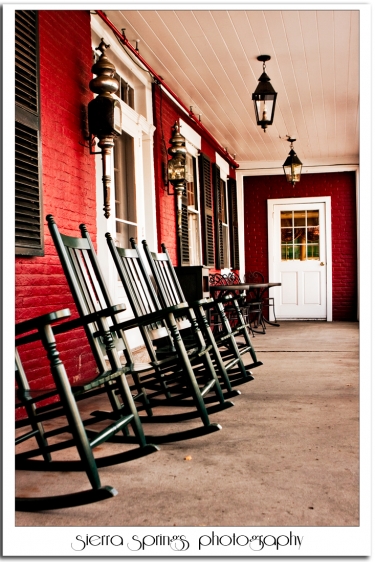 I love porches…especially porches with rocking chairs or adirondak chairs.  There's something so inviting about a porch with comfy wood chairs.  I've noticed, as I've been weeding through some of my older photos, that I also like to take pictures of porches.  I thnk it's because I would love to spend time on these porches…just watching the world go by.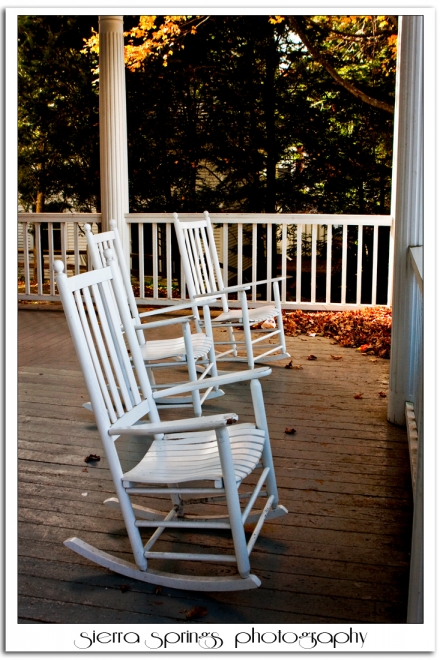 New houses don't have front porches so much anymore.  Nowadays,  you see your neighbor's garage door magically open and the neighbor drives into the garage (maybe he waves as he goes into his secret car storage area), the door closes behind the car and you don't see your neighbor again until morning when the garage door opens and out he drives.  And many people live in newer homes with backyard patios, surrounded by fences, so you really don't spend much time getting to know your neighbor.
I liked it when houses had porches.  Porches in the front of the house.  Porches that invited your neighbor to come sit a spell.  Have a lemonade.  Watch the kids play on the grass.  Talk about the family and the job.  Have a cookie.  Those kind of porches.

Sitting on the porch on a summer evening was the neighborly thing to do.  Porches are just plain friendly.  Even when the leaves haven't been swept off them in a couple of days.  Even when their is no roof and it's really a deck.  Porches with comfy chairs just make you feel good and help to slow everything down.
Maybe porches represent a time gone by, never to be recaptured.  But, I don't think so.

We all need a porch in our life.