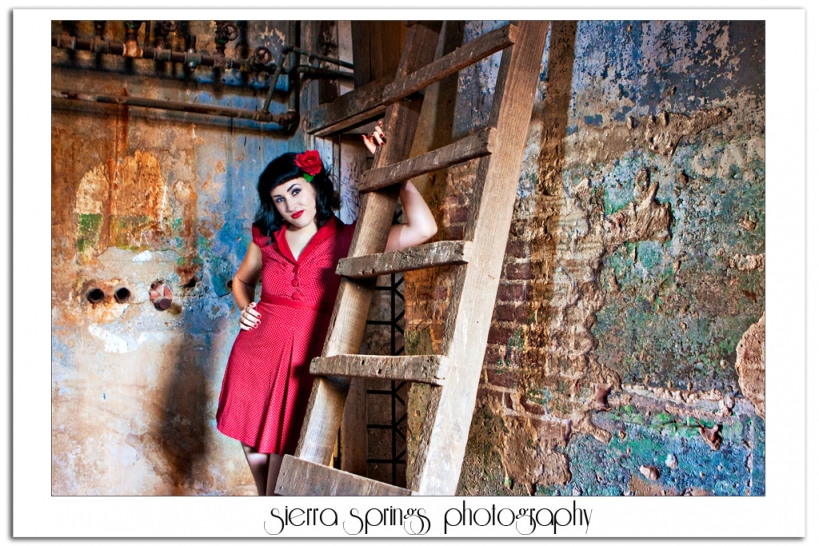 In honor of Valentine's Day (which I love), I thought I would revisit Preston Castle and the Pin Up Girls.  I love the way they use red, especially on their lips, to the vintage feel of their look.  In the above photo, I took this in the rather scary basement of Preston Castle.  It was very dark down there, but the textures and colors on the walls were quite amazing and worked well with red.  Here I have her looking towards the basement door, which is wide open behind me and my camera, to get the light on her face.  She has a wonderful bemused look on her face and she had to stand quite still in order for me to get this shot.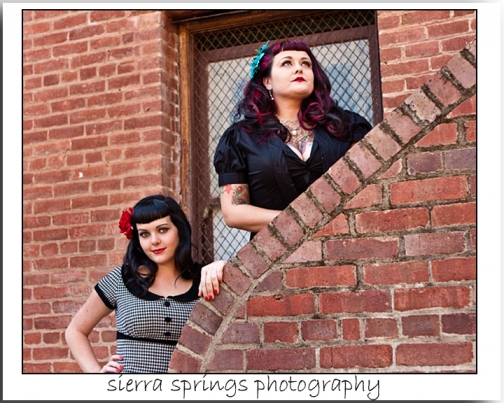 Here are the other two pin up girls at the photo shoot.  Note the great red color on their lips and the bright red flower in the one gal's hair.  This shot was taken in the "back yard" of the castle.  You can see in the next photo that the back yard is really a huge open area of poured cement.  These gals were so much fun.  They had the poses and exaggerated pin up looks nailed.

As you can see, this place is huge.  In fact, you will also note that I've cut off part of the top of the castle because I couldn't back up any further without dropping into the Juvenile Detention Center located next door to the castle. (I think that may have been scarier than prowling around the basement in the castle.)  You can also see how tiny our pin up model looks compared to the size of the castle.  There are a lot of rooms to explore in that old building.
At any rate, I digress…

Here we are in the stairwell to the basement.  I love the cute little red bows on her stockings and she has a wonderful look on her face.  These gals were all pros and I didn't need to give them much direction.
This final photo is back inside the castle.  I love the light on her face and the way she boldly shows off her features with her clothing and her pose.  If you got it…

…and she's got it.