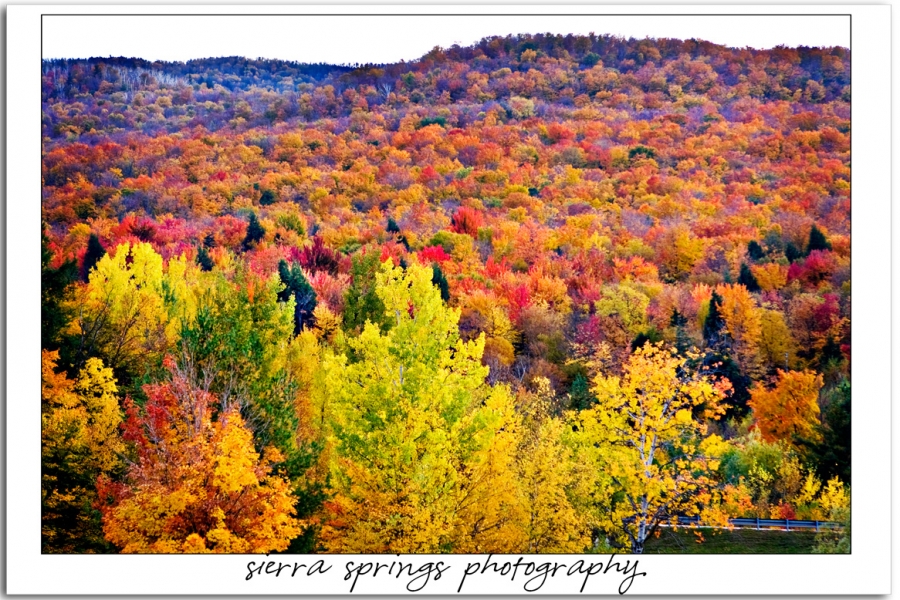 The Vermonters call it "leaf peeping".  That's when Vermont fills up with tourists viewing, enjoying and photographing the beautiful colors of fall that Vermont has in abundance.
We were lucky enough to visit Vermont last week when the fall colors were at their peek.  This photo was in Smugglers Notch, Vermont, where we stayed for the week.  Our friends invited us to share their Time share with them.  This was the view we had as we drove up to our home-for-the-week the day we arrived.  The sun had just gone down and the colors were breathtaking.
I do, however, hate to fly…and to get to Vermont we had to fly all day Saturday.  We arrived in Sacramento on Saturday, October 11, knowing that we would be spending most of the day in airports and airplanes.  I have not flown since 2000, so I had very high (no pun intended) hopes for this excursion.  We flew United to Los Angeles and the flight left on time and arrived a little earlier than scheduled.  We had two hours before our flight to DC.  So, as it was lunch time and we knew that we would get nothing to eat on the 4.5 hour flight to DC, we decided to get a quick bite in the airport.
Los Angeles airport is a LOT BIGGER than Sacramento International.  Let me repeat…A LOT BIGGER.  We found a place in the terminal to eat.  When we were done eating (I think it took all of 25 minutes or less), we began to walk to our departure terminal.  We got about 1/2 mile from our gate and heard, "Final boarding call for passengers boarding to Washington DC."
WHAT?  That can't be right.  There's still 1/2 hour before departure.
"Did they just say DC?" I asked my husband.
"Hurry, dear.  Must go faster," he responded.
I had decided to take the biggest purse I owned and stuffed it full of handy items such as an emergency first aid kit (complete with sutures and anesthesia because you never know what might happen in a plane), lipstick, tylenol, hand wipes, kleenex, paperback novels, a journal, makeup, extra undies (in case our luggage got lost) and other necessaries.  I am not used to carrying a large purse and this one was very large and weighed a lot.  Then, I had my camera gear…all of it…in my backpack.  It was very heavy. It was not fun to have to run down to the terminal.  OJ, I'm not. (Remember those old Hearst Rental Car commercials?  No?  Oh, nevermind.)
Of course, our gate was at the very, very endy-end of the terminal.  In fact, as we huffed up to the gate, the "nice" lady with the microphone was paging us.
"We're here!" I puffed.  She looked at us sternly like we were errant school children. Sheesh!  The plane's departure was still a good 15 minutes away.  And I am not kidding that the gate was about 1 mile from our arrival gate.  I checked my pedometer when I exited the plan from Sacto and checked it again after we pried open the plane door, raced down the plane aisle, strapped ourselves in as the plane was taking off…5 minutes early. It said we had walked almost a mile.
However, the plane was relatively roomy and comfortable for the 4.5 hour flight.  There must have been some sort of tail-wind, too, because we landed in DC 40 minutes early. One of the best things on the plane for my OCD personality was a little map on the tv screen in the seat ahead of me.  After the movie was over, I pushed one of the buttons and a little flight map filled the tiny little screen.  The first shot was a map of the World with our tiny little plane flying over.  It had the altitude in feet and meters.  It also helpfully showed the flight route.  Another shot cycled up showing a more close up flight route over the US.  It showed how many miles/km we had traveled and how many more miles we had yet to go. (Miles to go before we sleep, as R. Frost once said.) It also showed how fast we were traveling in mph and km.  Then the third screen cycled through showing yet a closer view of the map with various cities marked.  (I got to use my grammar school geography skills trying to guess which state we were in by looking at the shape of the state and seeing the cities we were flying over.)  It also indicated how much time we had been in the air and how much time was left.  These three screens cycled round and round.  I could not keep my eyes off of it.  My husband dozed and I calculated.  (I probably should look into taking drugs for my OCD.)
Anyway after we landed in DC, we took the LA terminal lesson seriously.   We wanted to find another place to eat in the terminal, but we first located our gate and then found a place to eat close by.  We had another 2 hour layover before boarding the plane to Burlington, VT.  We had a tasty sandwich at a little pub-like restaurant and then waited at the departure gate for Burlington.  The plane for Vermont left 10 minutes early.  Double Sheesh!
We landed in Vermont around midnight and we were at the hotel by about 1:00 a.m.  This is what we saw.  A room with a double bed, a small refrigerator, a microwave on top and…taking up about 1/3 of the room was a large pink bathtub?  There was also a bathroom with a tub/shower combo that I was much more comfortable with.  I finally hit the hay and tried to ignore the shiny pink tub in the corner.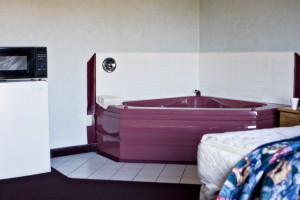 This hotel was not a fun place to stay.  It was noisy…very noisy.  And…it had a pink corner tub in the bedroom.  Weird.  Luckily we were only staying overnight.  Actually we only stayed a couple of hours.
In case you are wondering…we did not make use of the micro, refrig or the pink corner tub.