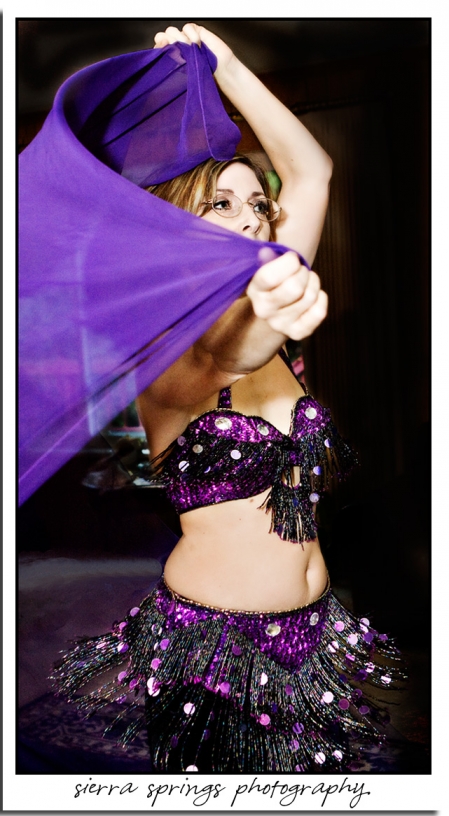 My friend Lesley, one of the dancers, gave me a little history of the dance and the American Tribal Style of Belly Dancing. So, I did a little bit of research on belly-dancing because I was so fascinated with this particular photo shoot.  This was such a wonderful opportunity to be on the inside of such an exotic art form, without actually baring my belly.   Then, I found this on Wikipedia (http://en.wikipedia.org/wiki/Belly_dance) :
"A recent movement in the U.S. called American Tribal Style Belly Dance, or ATS, represents everything from folklore-inspired dances to the fusion of ancient dance techniques from North India, the Middle East, and Africa. Created in the early 1990s by Carolena Nericcio, founder of FatChanceBellydance in San Francisco, ATS has a format consisting of a vocabulary of steps that are designed to be performed improvisationally in a lead-follow manner. Pure ATS is performed in a group, typically with a chorus of dancers using zills, or finger cymbals, as accompaniment. The music can be folkloric or modern, and the costume is heavily layered, evoking traditions of any or all of its fusion of cultural influences.
Suhaila Salimpour is a belly dance teacher who was born to Middle Eastern immigrants to the United States. She recently became the first American-born belly dancer to be interviewed on Arab television, and she is consistently compared to the native belly dancers in the Middle East. [1]
Multicultural trends that have shaped Western and U.S. belly dance are still at work. Ever evolving, this versatile dance keeps absorbing a blend of influences; modern fashion, film and television imagery, the world of rock, jazz, clubhouse, and hip hop, underground subcultures, and many other contemporary influences. The umbrella term used to describe these hybrid forms of belly dance is "belly dance fusion", including "tribal fusion". One of the newest belly dance fusion trends is gothic belly dance that incorporates many belly dance styles and motifs and seeks to express the darkness of the unknown that has inspired the music, philosophies, and lifestyles of the Goth subculture. [2]
Every year in the U.S. more fusion and personal styles added into Belly Dance. From ballet, Urban Tribal, Techno Tribal, Afrocuban Tribal, World Fusion, Popping Fusions, Hip Hop Fusions, Jazz, contemporary, Indian, Asian gymnastics, fire dancing, stilt walking, hoop twirling and the reintroduction of burlesque type movements, With dancers seeking out education in more than one dance form in order to incorporate something new into their Belly Dance choreographies; it has become one of the most diverse dance forms within the U.S. to date.
Fascinating.  Beautiful.  And Oh so feminine.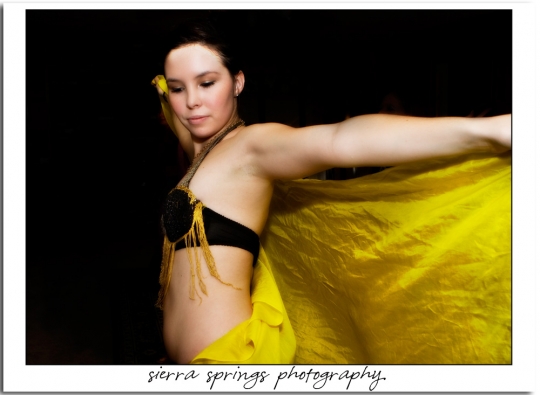 Here are a few photos I took of the dance.  Because I wanted the viewer to concentrate on the dancer, I did cut out the background in quite a few of my photos (the background was a little distracting.)

For some reason, I couldn't get the gals to dance outside on the wood deck so that my pictures would have a lovelier background.  They said something about not really wanting to get splinters in their bare feet when they danced on the wood deck.  Oh, that…right (she looks down, rather embarrassed for not thinking about that.)

Well, it gave me a lot of opportunities to hone my "selection photoshop" skills.  (My simple background almost makes them look like they are dancing in space. But, it does help focus on the dancer alone, which was my goal.  I would have loved to have a silk curtain-like background, but I just didn't have the time to develop that idea.  Maybe later. )

At any rate, I had a wonderful time.  These ladies are not only beautiful, but they have lovely and kind personalities.  Thank you for this wonderful opportunity.