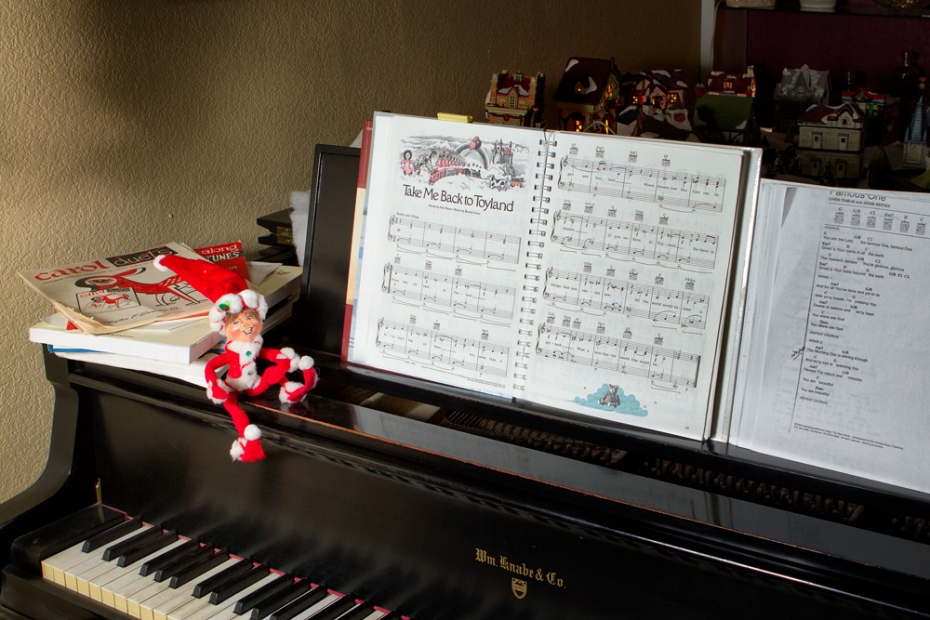 When last we saw Edmond Elf, he was outside waiting for a mysterious visitor (after getting into the eggnog.)  As it began to grow dark, Edmond realized that his visitor was not going to show that day. He assured me that his visitor would show up, but Edmond must have gotten his days mixed up (stupid Ephone).  So, he encouraged me to dust off my Christmas piano music and play some tunes that he could sing along. So, I obliged the little elf and turned to some of my favorites. Edmond, of course, favored anything having to do with Santa, elves or toys. Although his favorite is Joy to the World.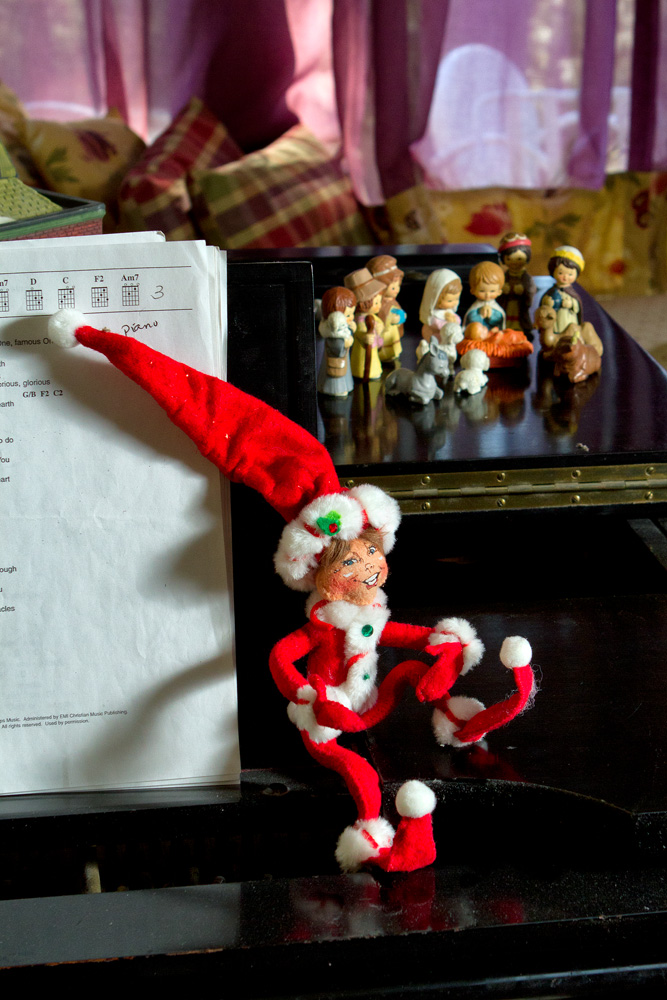 Some of the traditional songs I played inspired him to check out one of my nativity scenes. He was absolutely enthralled with the baby Jesus and sat quietly while I played "Silent Night", "We Three Kings" and "Away in the Manger".  He told me my playing was magical, but I scoffed and told him he was probably just emotional about the whole meaning of Christmas.

Don't say anything to him, but his voice isn't very good, although he sings with great enthusiasm. I was hoping that he was done with the singing because it was beginning to make my ears bleed, but as I sit here writing this, I can hear him  "Fa la la la la-ing"  in another part of the house.  Frankly, I'm not in any hurry to see what he's up to now, considering what he got into after the singing.
After I finished playing I thought it was safe to leave the room for a while.  But as I walked by the living room later on, I saw that he was terrorizing a small Christmas village that my youngest son sets up every Christmas on top of the piano.

The Villagers all seemed to be running from him in terror as he merrily yelled out, "Fe Fi Ho Ho Hum, I smell Christmas Cookies," and "Bring out your Sweets" and other terrifying commands.   Sigh.  I asked him to please leave the peaceful villagers alone and help me clean the house for Christmas Cleaning Day.  That seemed like a good idea to him and he hopped off the piano to help me out.
He quickly lost interest in cleaning when he saw that it involved wet rags, brooms and smelly sprays that did not in the slightest smell like Christmas or cookies baking.

He found his chance to be a treetop Elf Angel and without any Lightning Bolt throwing angels around, he climbed the "tree" and declared himself Master of the Universe or some such nonsense. When I didn't make any sort of comment, he hopped off the tree and ran down the hall shouting, "Run, run as fast as you can.  You can't catch me I'm the Ginger-Elf Man". (Note to self:  Stop reading Children's Stories to Edmond.)
I didn't pay much attention to him until I heard paper ripping.  Then I did run down the hall and here's what greeted my wondering eyes:

My sudden entry into the other room startled him and caused him to fall into the package that he had opened up.

Serves the little imp right.  He told me he thought it was an early Christmas present for him because it had his hat on the outside. And even if it wasn't an early Christmas present for him, he saw that it wasn't wrapped very well, so he was trying to rewrap it for me.

"You know, Edmond", I said with a large sigh. "I do not have time today to be chasing after you and cleaning up your messes. Company is arriving at the house tomorrow and I needed to get the house in shape. "  He said he thought the house looked pretty good, but probably needed more lights and maybe another Christmas tree or two.  He offered to help.  I don't know what got into me, but I decided that I needed to contain him for a while just so I could get some things done around the house, finish wrapping (and re-wrapping) Christmas gifts and do a little cooking.
So…I contained him.

At least I put him in a Christmas cup.
(no elves were hurt during the filming of this post.)
Contact me for a quick portrait session after Christmas to update your Social Media.  Quick, painless and great pics.  schmautzhaus@sbcglobal.net