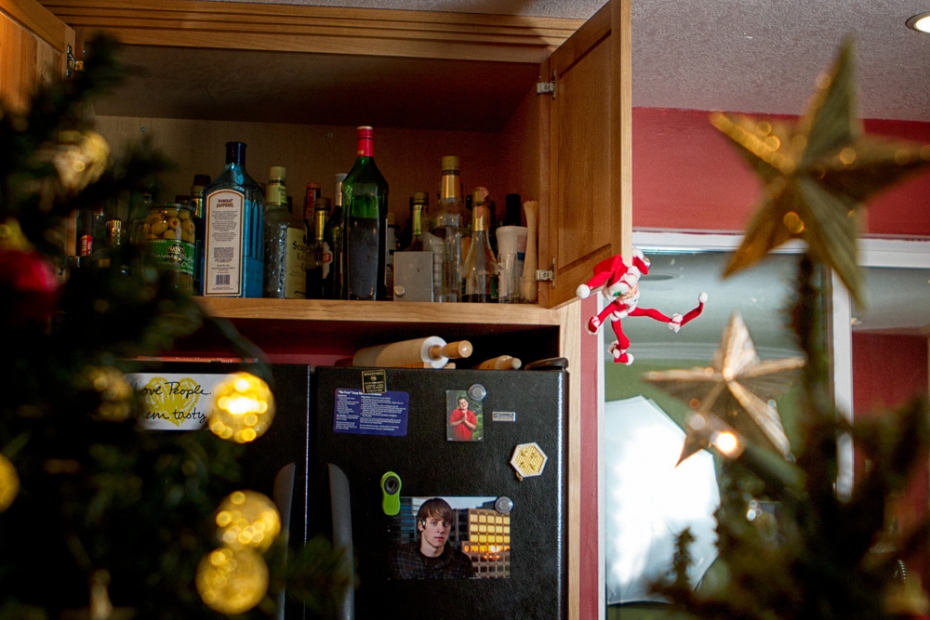 When I got home last night it seemed a little quiet and then when I walked into the kitchen, I was greeted by this. What in the world was Edmond Elf up to now?
I decided that I wouldn't interfere unless he got into real trouble just because I was curious to see what he would do.  He eventually discovered that if he flapped his one arm and kicked his legs, he could swing the door. I still wasn't quite sure what he was up to, but I did think it was more than just swinging around on a cabinet door.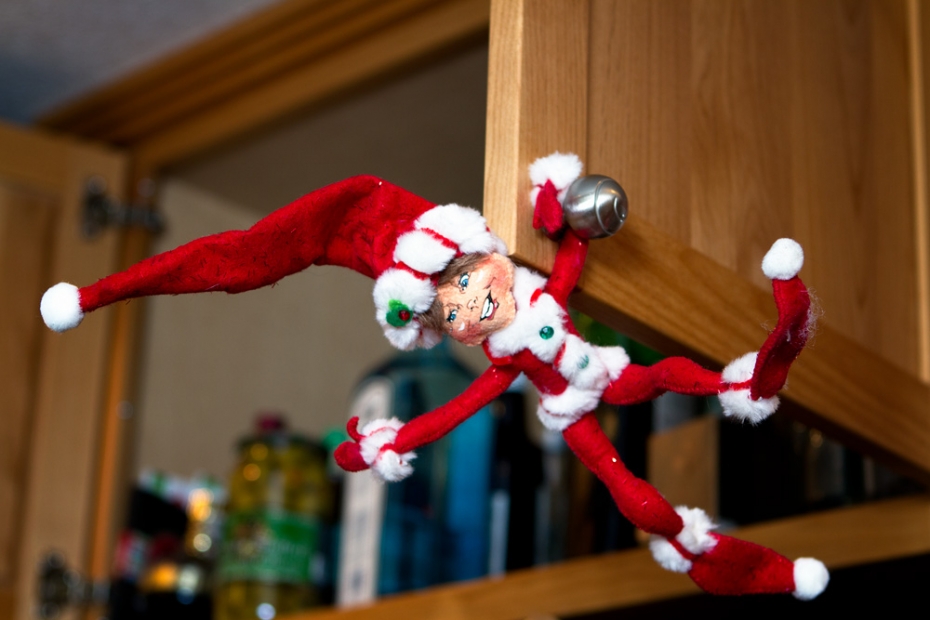 He apparently enjoyed swinging around, because he swung back and forth a couple of times before he collapsed inside the cabinet in a fit of giggles. He is a merry little elf.

It seemed that Edmond wanted to try some Eggnog, which I wouldn't have minded. All he had to do was ask. However he had other ideas.  He apparently spent the afternoon watching old Christmas movies and got the idea that the eggnog needed to be spiced up with more than nutmeg.

So, when he got down the whiskey, dragged out the eggnog , and began to unscrew the top off the whiskey, I thought it was time to step in before he got into big trouble. When he saw me, he tried to make up some story about a friend coming by and how rude it would be if he didn't show his friend some hospitality.  I suggested that there are other ways to show your "friends" hospitality. And when he took one whiff of the Whiskey, and just about keeled over, he agreed.
Anyway, he said he had a better idea about how to greet his "friend" and hurried out the door while I was cleaning up his project.

Hmmmm, maybe he really was expecting a visitor. I wonder who?
For a quick portrait shoot that's painless and easy, contact me at schmautzhaus@sbcglobal. and we can set up an appointment.