I was so honored to be chosen to photograph this wonderful family for a Mother's Day Gift for mom, Samantha. Her oldest son had a brief leave from the Marines and she wanted some pictures with the whole family while he was home with them.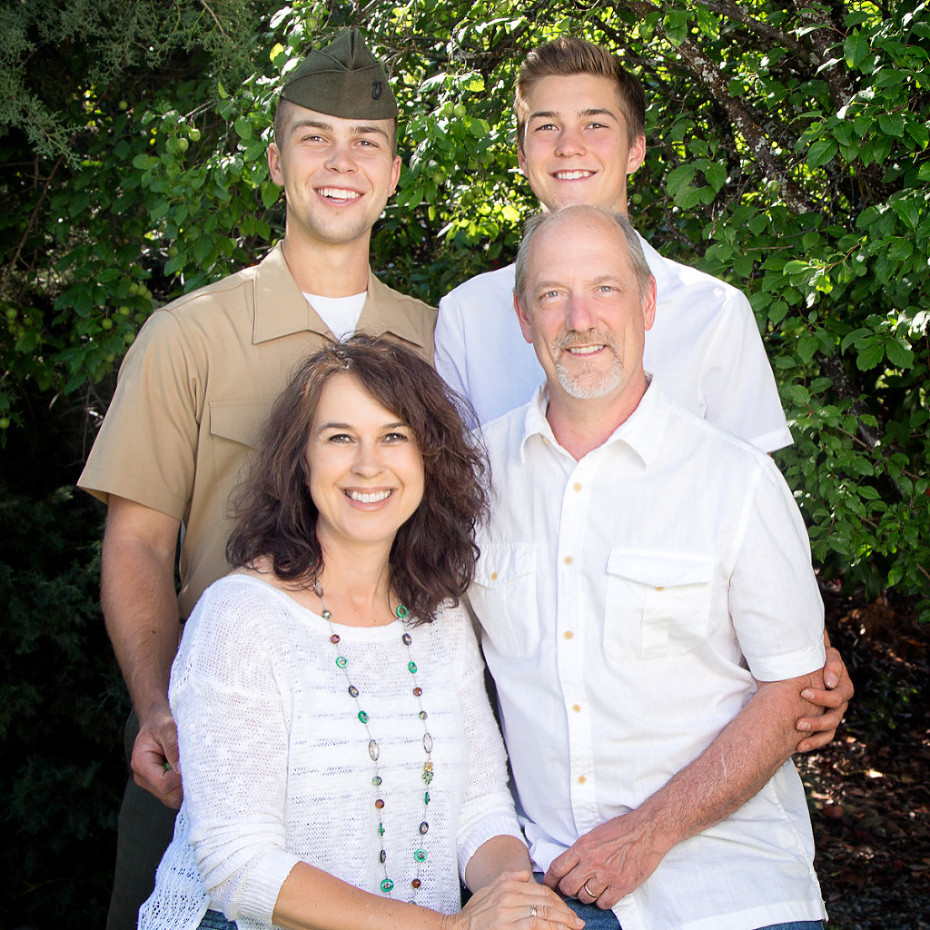 They are a fun loving family.  Sam had asked me if I could add the family dog into some of their photos, if he behaved.  I was game, but as soon as I arrived the dog jumped into the small garden pool and began digging furiously, covering himself with water and mud.  At that point, we decided that the dog would probably have to be left out of the family photos. He had other ideas and came out of the pool in the middle of our shoot and began to shake himself off…sending water and mud flying.  If I hadn't been trying to protect my camera, I would have taken photos of this event because it was pretty funny.

You will note that the younger son changed out of his white shirt, which probably took the brunt of the energetic and very happy dog's shaking.  However, he looked great in the blue shirt.
Samantha, at times, could not keep the tears from falling as we took various photos switching family members in and out of the frame.

All in all, it was a great time and I got to know a little bit about this wonderful family.
We also included Samantha (Mom) with each of the family members.  Very touching for me to see the interaction between these loving family members.
And a big thank you to the young Marine for his service. We pray for his safety and return safely to his family.
And, I end this photo shoot with a shot of the men in Samantha's life.  Happy Mother's Day, Sam, and thank you for your family's service and sacrifice for the freedoms this country holds dear.
I hope you enjoyed these photos as much as I enjoyed taking them.  Thank you so much to Sam, Mike and her beautiful young men.