If you are planning a wedding in the El Dorado County, CA, area or even the Greater Sacramento Area, I would love it if you would consider my services for your photography.
I would love to send you a copy of my 2014/15 wedding magazine.  It's a PDF, so you can view right on your computer/ipad/iphone.
I love weddings and I have several packages that should suit most needs.  But, I am also willing to customize a photography package to suit the individual needs.  I know weddings are expensive and I strongly believe that every bride and groom should have beautiful pictures of their wedding day, because when the last of the guests leave the party, the food has been eaten, the toasts are toasted, all that you have to remember the day is the pictures. So, I am very willing to work with you and your budget so you will have photos to remember your day.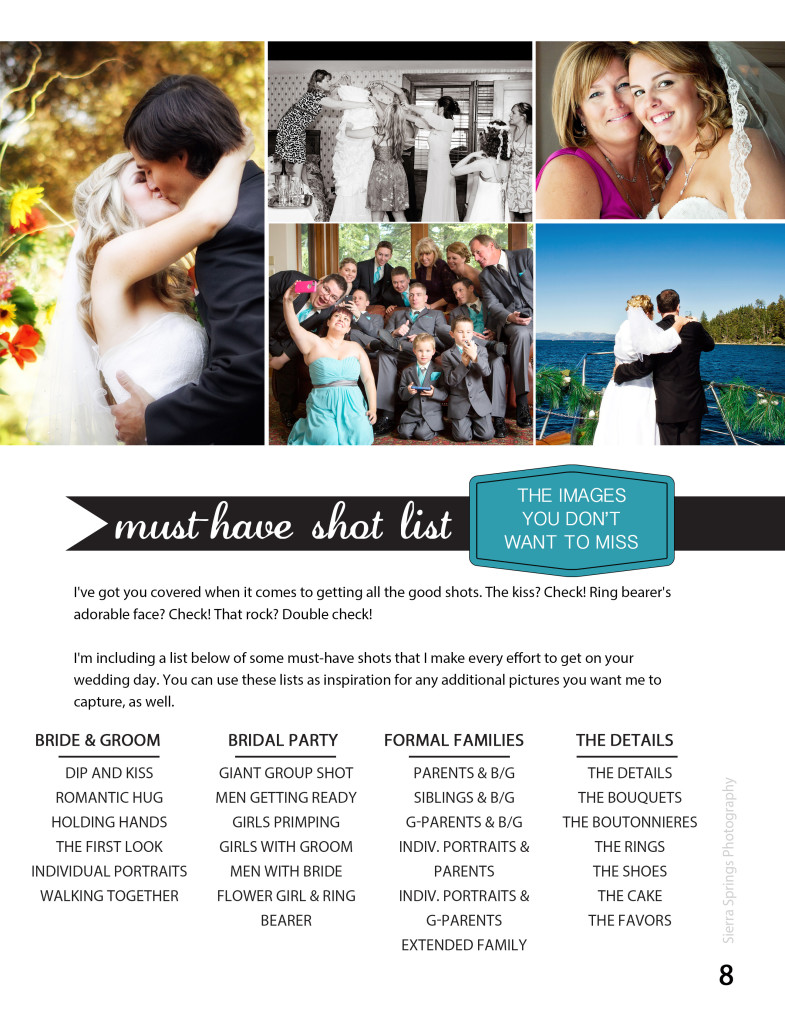 Shot list
We like to make sure you get the pictures you want, so we will send you a shot list.  We will also work with your wedding planner or DJ to make sure we are aware of when the big events take place.
Most of our packages come with a free engagement session.  You can also add it on a la carte for a reasonable fee.  We always love these sessions because we can get to know both of you, give you some tips on posing and provide you with some great photos to use for Save-The-Date cards, Guest Book, Thank you cards, or making prints to place around the wedding event venue.
So, if you are planning a wedding and are interested in our photography services, please drop us an email at seirraspringsphotography@comcast.net and we'll be in touch.