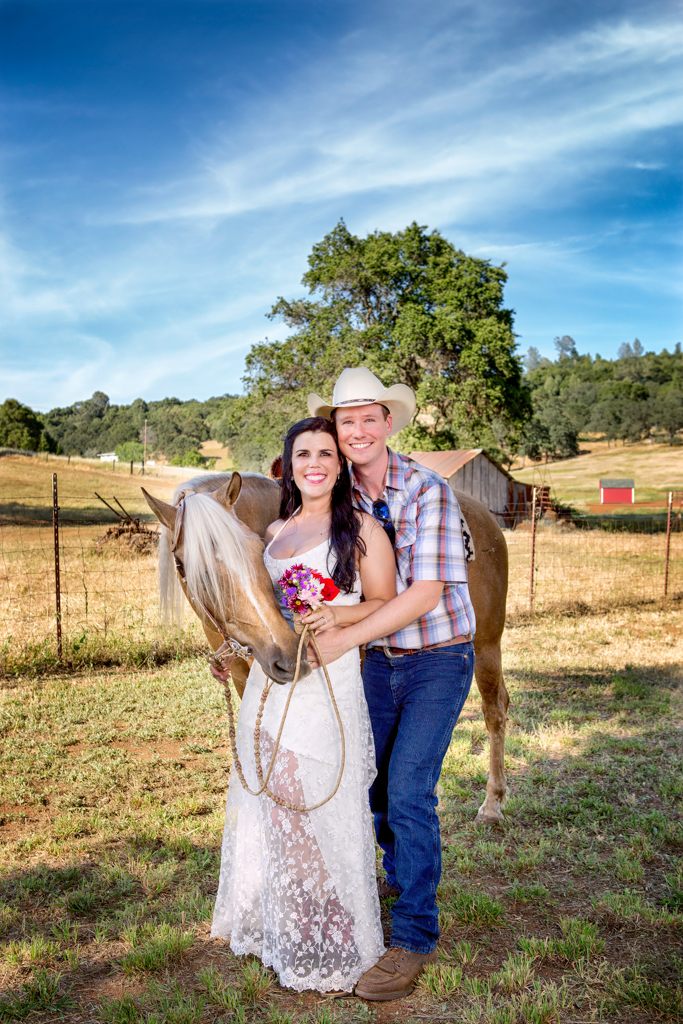 I always enjoy photographing weddings. There's so much love in the air and the bride and groom spent so much time carefully planning all the details. Erin and Cory's wedding however, was not only beautiful, fun and charming, it was one of the most unusual weddings I have ever photographed. I asked Erin, the bride,  how she met Cory and she said: "Online—Plenty of Fish website. I was a busy vet student who had just rescued a horse from slaughter, so many of our first "dates" were spent at the barn taming Ashwin and breaking him to ride. Cory fell in love with horses after meeting Ashwin."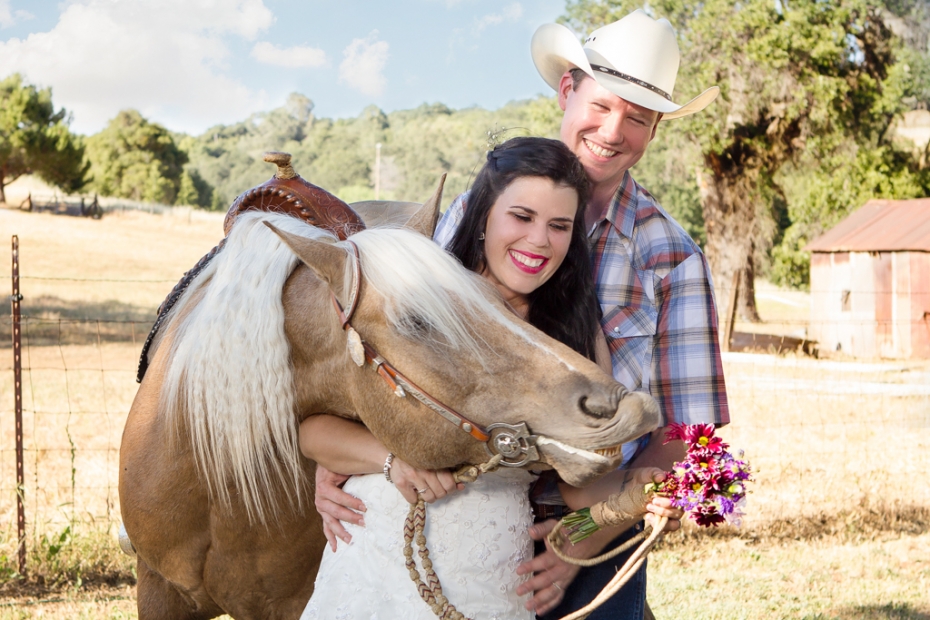 The wedding and reception were held outside, under gorgeous giant oak trees at Double Oak Ranch in Shingle Springs, CA.

When I asked Erin what her favorite part of the wedding was, she said: "Riding in on my rescued horse who did an AMAZING job, standing in front of our homemade alter with welded "HAMMA" horseshoe sign, seeing everyone laughing at our silly entrances, dancing down the aisle, dancing crazy in the barn with all the lights on, "just married" sign and cans on Ashwin's tail—perfect! We just love that everyone (including ourselves) had fun the whole evening. It definitely wasn't a boring wedding."

  It definitely was not a boring wedding. The bridesmaids wore decorated jeans (and so did the bride until she donned her dress)

The groom and groomsmen wore jeans and plaid shirts and cowboy hats.

The entire wedding party danced down the aisle one at a time, but it was the groom who outdid everyone else.
The bride, on her beautiful horse Ashwin, galloped down the road and onto the site of the wedding.

She then, rode her horse down the aisle to her handsome groom while all her friends cheered, smiled and took lots of pictures.

The officiant brought a shotgun and laid it against the tree before the wedding

and then he took a selfie with the bride and groom after they were pronounced man and wife.

The first dance was to "I Won't Give Up" by Jason Mraz

You could tell they were really loving every minute of their special day, surrounded by friends and family that love them.

As for me, one of my personal favorite moments of the wedding was when the bride got on her horse after we had taken some pictures of her and her groom and galloped away…hair and horse tail streamers flying out behind her. Her husband watched her beaming.

Check out some of my favorite shots of this wonderful wedding.
A few more people that helped their wedding go off without a hitch was:
Cake Maker: Sandy Crabb-Lynch
Where Dress was Purchased: Goodwill $10; self-installed corset
Caterer: Dickey's BBQ
Florist: from the flower market and bride made all arrangements herself.
DJ: DJ Alazzawi Congratulations Mr. and Mrs. Hamma.
And the details


The venue was beautiful by sunlight and after the sun set.

This was a most memorable wedding for everyone that attended.  Thank you for letting me "see" it for you.