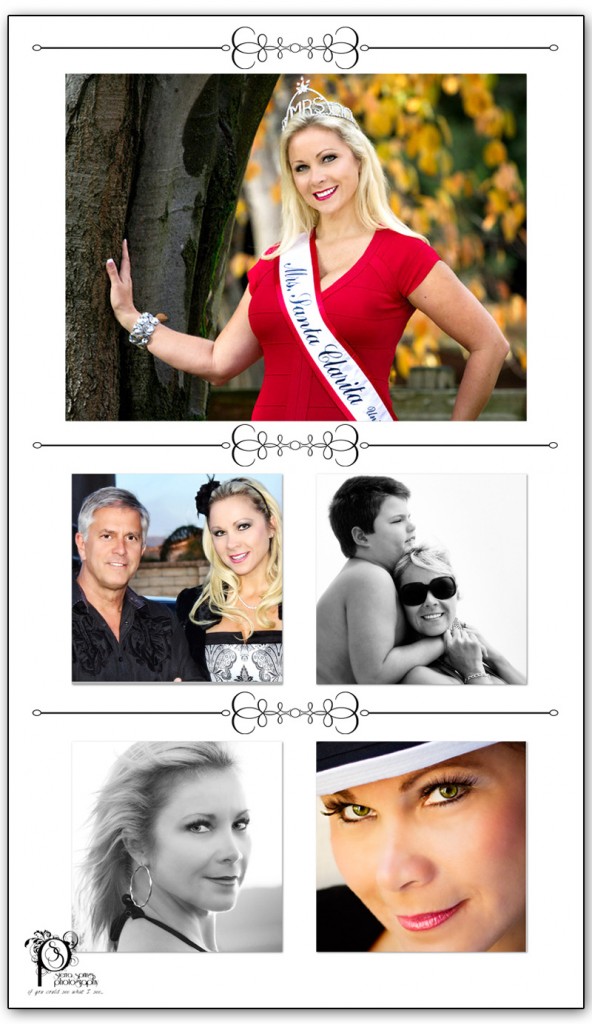 This is the current Mrs. Santa Clarita Valley, Julie Winkle.  She is running for Mrs. California 2011.  As you can see, she is gorgeous and has a beautiful family.  That's her husband, Jack, (middle left) and her son (middle right) in the above pics.
Let me tell you a little about Julie.  It is obvious to anyone who sees her, that she is a true beauty. She's about 5'9″ tall with long blond hair and gorgeous green eyes.  It is also obvious to anyone who observes her for any length of time that she is just as beautiful inside as she is on the outside.  She is a Christian woman who takes her faith seriously. She has a good sense of humor with an infectious laugh and is very quick to laugh at herself.  She is generous, almost to a fault. She is naturally hospitable and wants anyone who enters her home to be comfortable and make themselves at home. She has housed people in her home who need a place to stay until they get on their feet and can afford their own place.  She has also housed college students who can't afford housing while they attend a nearby college.
She is also the bravest, strongest woman I know.  When her only child was around 2 years old, he was diagnosed with severe autism.  Although a devastating diagnosis, she and her husband researched the disease, consulted doctors,  determined a course of action that would best suit their son and moved forward with it.  To say their lives have been challenged with this diagnosis is a severe understatement.  However, their lives have been ultimately blessed and their little boy is happy and a loving child.  Julie strongly supports several charities, one of which is "Autism Speaks".  Running for Mrs. California will give her an excellent platform to support this charity.
Most of all, Julie is a kind, loving and supportive friend.  I should know.  She's been my best friend for the last 20 years. I may be biased, but all the things I said above are true.  She has been a huge blessing in my life.
You can vote for her for "People's Choice" here.
Vote for YOUR Mrs. California United States! All proceeds go to charity, and winner gets a sash, cash and trophy!
Only $1.00 per Vote and a 5 Vote Minimum
Vote for Julie Winkle, Mrs. Santa Clarita Valley
Here's a little slideshow I made with some shots of her photo shoot taken by me in November and December, some personal shots that I have taken thru the years and some shots taken by Julie and some of her friends (Michelle Hopkins).

*The two middle shots in the collage above, were not taken by me.  They were provided by Julie and edited by me.