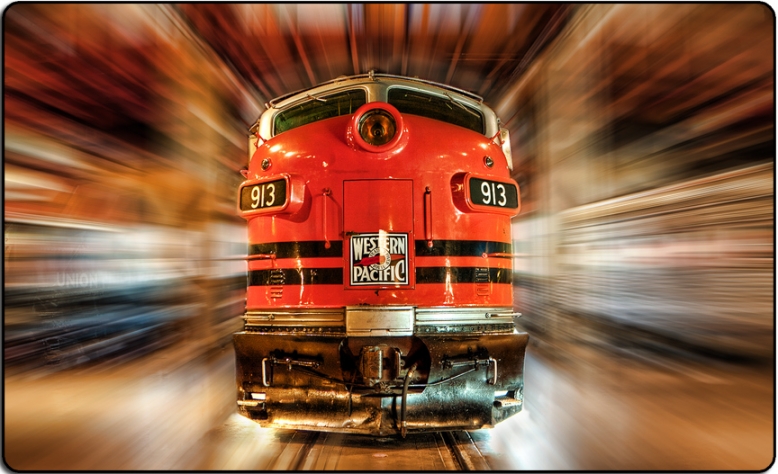 well, the Sacramento Scott Kelby Worldwide Photo Walk competition, that is. (Sacramento, CA USA (Old Sacramento & Railway Museum)) Now…on to the Worldwide competition.
This shot was a last minute edit and entry.  I saw and photographed this train early on in my walk through the museum. I saw lots of other photogs taking pics of this train from all sorts of different angles.  So, I tried my hand at an HDR (3 exposures) of this beauty.
Here's the original after combining exposures and editing: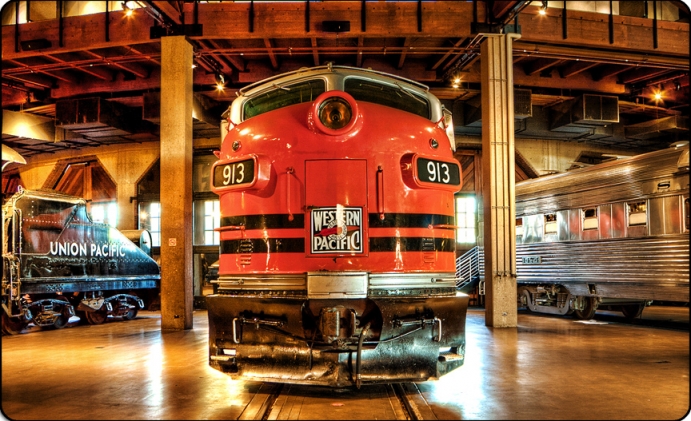 Not very dramatic.  Its an okay train photo.
So, I jazzed it up a bit, added some motion, submitted and crossed my fingers.
Now, my photo gets submitted to the Worldwide competition where the other 1100 winners will be submitted.  Some of the world's best photographers have submitted their photos of the day. The prizes are pretty good:
"…leaders will have one week to choose the winning image from their walk. All of those winning images will then be posted in the People's Choice gallery where you can vote for the shot you think is the best. The People's Choice winner will receive a $750 Adorama gift card and a 1-year Kelby Training Online subscription.
While that's going on, Scott will also be narrowing all of the winning images down to the best of the best to select the top 11 images from the whole event. Those will be the 10 Honorable Mentions (who will receive a $250 Adorama gift card) and the Grand Prize Winner (who will receive a $1000 Adorama gift card and a 1-year Kelby Training Online subscription)."
Somebody tell me to "break a leg".