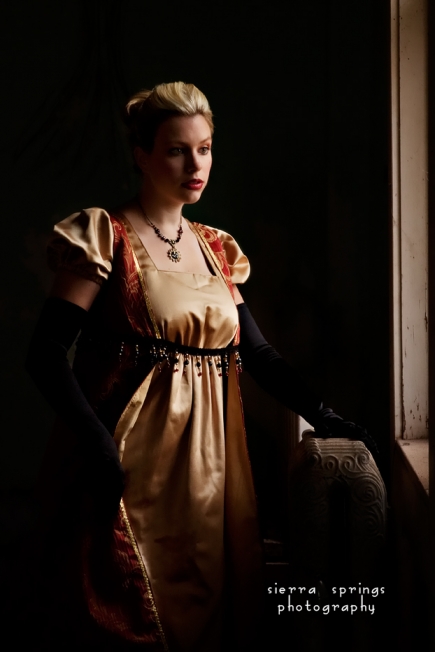 You just can't take a bad photo when you make good use of window light…especially windows that are huge and grimy like those at Preston Castle. Here's Brittany with a beautiful Renaissance outfit on. Just look at the light on her face, will ya?  Good, huh?  Here's another: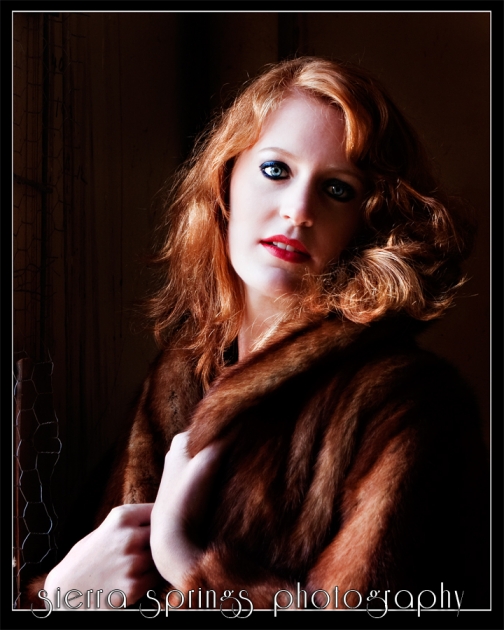 Now this gal has got so much good stuff going on.  She's got that wonderful red hair which complements the fur coat.  Her blue, blue eyes are knock out beautiful and she's wearing red lipstick.  I placed her in front of a huge, dirty north facing window (best light) and just snapped away.  The only bad photos I had of her were operator error on my part.
Here's a young man, senior in high school.

I prefer using a north facing window, but in this shot  put him in front of a large, filthy south facing window and I got away with it because the sky was totally overcast at the time providing a nice soft light.  Look at the way the window lights up his eyes.  I love that he was wearing a tie and a nice vest.  So classy.
One more window light…

Now, what's not to like about this gorgeous gal. She's standing directly in front of my big, huge, filthy, north-facing window.  I just love this photo. Her eyes are just knock-out.  The light on her face is soft and attractive.  Pretty much anyone would look good in this light, but she is a true beauty.
I keep telling my husband that the reason I don't do windows is because they make better light for photographers when they are dirty.  He's not buying it.