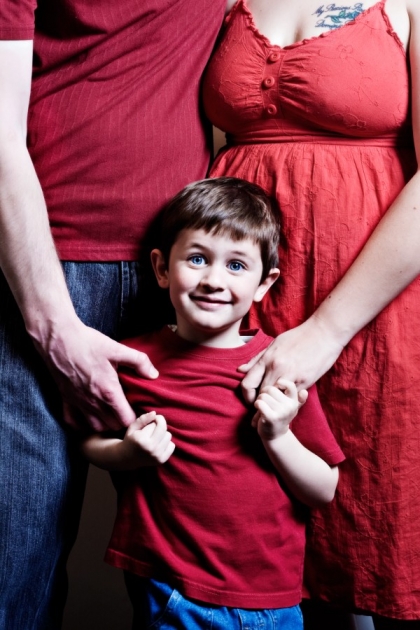 I'm just finishing up my last "studio lights" portrait assignment for the Folsom Lake College Portrait and Wedding Photography class I'm doing.  So, as usual, I called in the fam.  Pictured here are my headless oldest son, my son's headless girlfriend and her little boy (not headless).  He's been in many of my pictures before and I got a fairly decent picture of him without his mugging for the camera.  Now this is not the photo I chose for my formal portrait assignment, but it is one of my favorite photos of the session.  I used my new studio strobe and pocket wizards.  I feel so professional…
This is the photo I chose for the assignment.  There are several things about it that I don't like…mostly technical (like the chair back, the shadow on my son's chest, her "bolt upright" pose), but it's okay for a formal pose.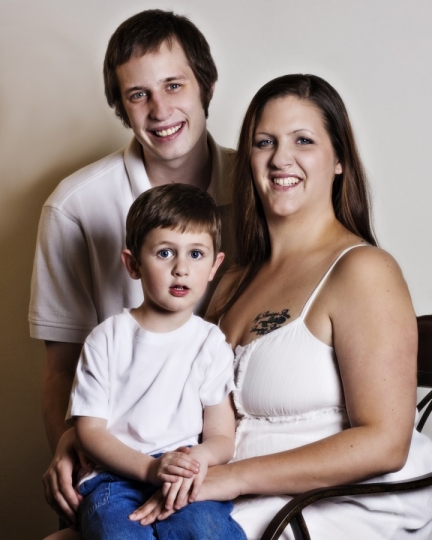 I also had this one:

which is OKAY, but my oldest son has a really fake look on his face and Dino's smile is beginning to wane.  (He was getting pretty tired of this picture taking business by then.)  Plus, the boys' clothes are a little disheveled.  And, there's a little space between her hair and her face that's annoying.  Picky?  Yes, but we are talking about trying to make a photo that you would be proud to have hanging over your fireplace.  After a while these things would start to bug you…so, it appears I need a little more practice with formal photos.
Now you can see why I like the first shot.  Here's another one I really liked:

Again, not a formal pose, but this type of shot is more my style.
And this one:

And this is much better of my son with Dino:

Both of them have a fairly natural look on their faces.  I think I still need to work with my oldest in order for him to feel more comfortable with the camera in front of his face.
So, thanks to my family who helped me out yet again.