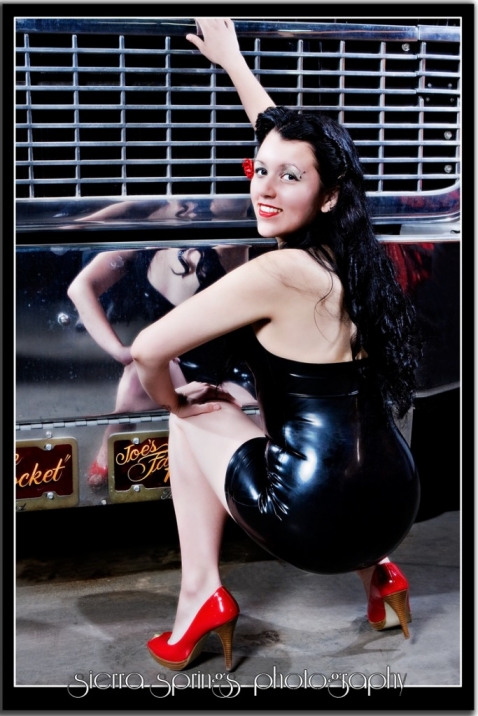 I attended a Pin Up and Classic Car Photo shoot a couple of weekends ago.  It was located at the fabulous Heidrick Agricultural Museum in Woodland, CA.   It has all sorts of cool old agricultural equipment and old cars and fire engines and such.  One of the most interesting things is a full size 1956 pickup made entirely out of wood…including the engine.  That was pretty amazing.
However, throw in some pin up models and you have yourself a real humdinger (little agriculture talk, there.)
Now, I think the above photo epitomizes the 1940's era Pin Up Girls.  The hair, the makeup and the pose.  The dress (I think it's rubber or latex or something) not so much, but it sure is form fitting.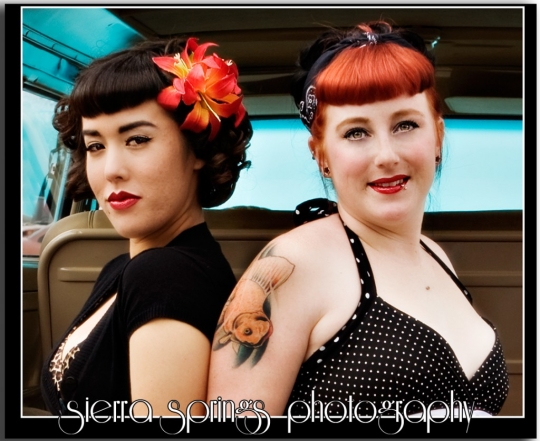 Also, a bunch of classic cars were on site and so the models posed on these wonderful old cars.  The cars were provided by "The Poor Boys Club" of Sacramento.  The two gals above were sitting in the back of a wonderful old station wagon.  (Please be advised that I know nothing about old cars but I do know what is cool…and this car was cool.)  I love the pops of red in this photo and I wish I had gotten more photos of this darling redhead…I mean look at that hair and those eyes, will ya.

Okay, here's a shot of a cool car, a pin up model in the cool car, a cool poor boy watching the cool pin up model in the cool car.  There's also lots of photographers milling around waiting trying to get "THE" shot.  Notice, that I am not doing a very good job of trying to get "THE" shot, but having fun anyway.

Now, here's the other side of the same cool car (am I in a rut?)  This shot is probably a little different from most of the shots that the other photographers got.  They, and most of them were male, had a different priority than I did.  Their priorities were more like:  1.  Shoot the girl, 2. Shoot the girl with the car, 3.  Shoot the car, 4.  Shoot the girl with the dog.  5.  Shoot the girl.  I was more fascinated with showing the girl as an accessory for the dog than the other way around…and yes, I do see things a little differently than most, or so I've been told.  The other advantage I had over the guys, is that I don't think they would be gutsy enough to cut the head off the model as they've been told all their life that all they are interested in is…well, things other than a woman's head.  Heh.  Advantage me (a girl).

A lot of the Pin Ups had tats.  This darling gal had only one that I could discern and it went so well with her shoes that I had to get a shot.  I also thought that the white walls of the other car (in the background) looked kinda like a quarter moon…or not.  Anyway, I liked the look of it (again I haven't shown her face.)

And finally…may favorite photo.  This is Ed and he's a docent at the museum.  He told me that he was a college professor before he retired.  He had a great sense of humor and didn't mind me taking a photo of him.  (You are probably wondering where all my pin up shots are…
Maybe I'll put some more up later on.