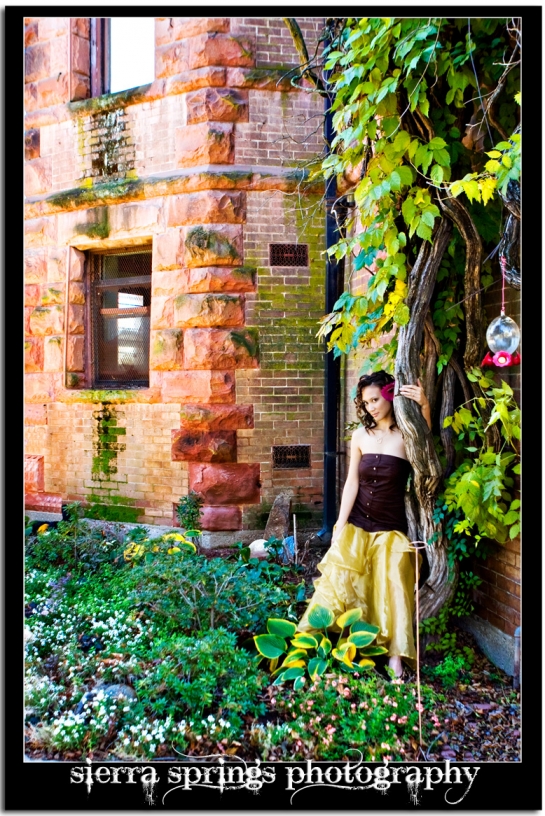 A few more shots from my portfolio workshop.  Preston Castle is kind of a spooky place and I would not want to spend any time there alone, but there are many beautiful spots, also.
The above photo was taken in a little garden area in the back of the castle that was quite unexpected, considering the dilapidated state of the castle.  It really did remind me of a fairy tale and Naomi's outfit is perfect for this setting.  She is a wonderful model and a dress designer.
Inside the castle was not such a pretty picture, although it made for pretty pictures.  The only light available in this hallway was a big bank of large windows on either side of the hallway.  This is the main hallway on the first floor.  It goes from the front door of the castle through to the back where the infirmary was located.  The windows were incredibly dirty making for the most marvelous diffused lighting that a photographer could ever hope for.  The model in this shot is Namantha and her skin tones and large eyes were beautiful with this light.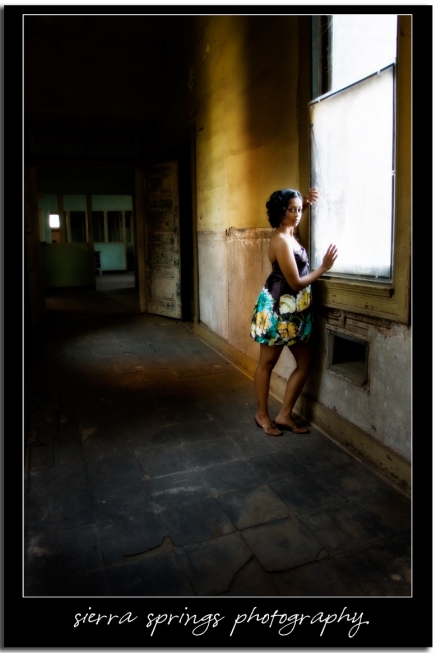 There was a lone male model available during the workshop.  His name is Ricardo and he was wonderful to work with. I wish there had been a few more male models so that we could have done more couples shots.  But, here he is looking very GQ.

Ricardo was in great demand, so I was happy to catch him and Namantha wandering around the castle without a passel of photographers hounding them.  I grabbed them for a shot I had in mind in the upstairs hallway, which was much brighter than the hallway downstairs.  Another photographer tagged along with me and so we were able to set up a bunch of shots without being bothered by the demands of the more vociferous photographers.  I had in mind a kind of high school, young love with lots of edge shot.  Here's what I got.  Okay, so I'm still learning, but I like the shot.

They were also able to pull this one off, which is quite different from the one above.  This is more of an engagement type of photo.  By the way, after we were done with this shot, Ricardo turned to Namantha and said, "Hi.  I'm Ricardo.  I don't think I've met you."  Heh.

We also had a makeup artist helping the models get ready.  Her name is Sabrina Britschri and she has a business called "Envy" in Elk Grove, CA.  She was wonderful and did a beautiful job.

Next installment will be all about the pin up models, who were SO MUCH FUN!
Enjoy.