…this time in Sacramento…actually it was just outside Elk Grove, but who's counting?  (I love mixed metaphors).
I attended this session on Saturday with 40 eager, talented, friendly, portfolio building photographers and about 14 models, a family of 4, an engaged couple, two fashion designers, a hair-stylist and makeup artist, two modeling coaches and, of course, Mark (who is a very talented photographer and teacher.)  It was held on a large old farm that had lots of charm, barns, farm implements, old cars, etc.  The "Trash the Dress" session was held at Rancho Seco lake at the old Rancho Seco Nuclear facility.
The photo above is an old Chevy Pickup truck that was in one of the barns.  I saw the light on this and I fell in love with it.  Of course, the other photographers fell in love with the truck and the light, also.  So…I only got to photograph the young man you see below in this particular location.  Luckily there were lots of other locations to choose from.  This teenager was looking to boost his acting portfolio and he was a very sweet young man.
.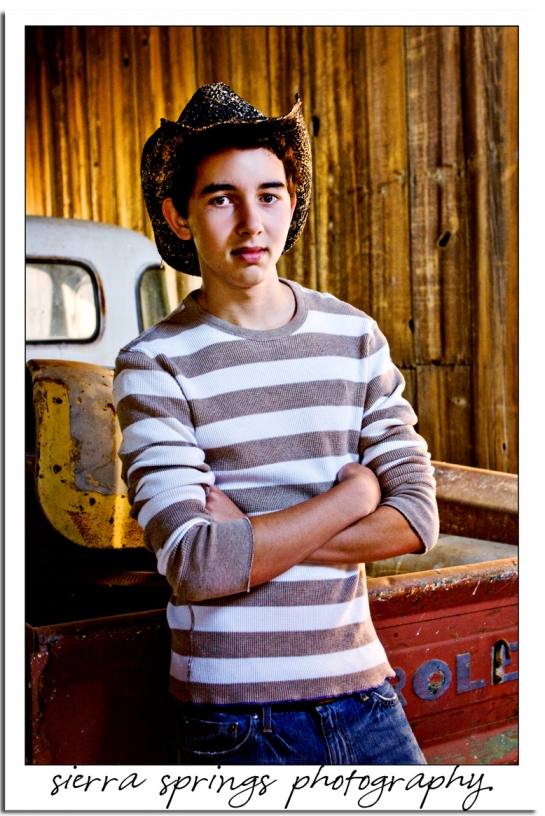 The handsome young man you see below was as nice as he is handsome.  He was also a true gentleman and a delight to work with.  He told me that he was a singer and an actor.  I asked him what kind of photos he was looking for and he gave me a wonderful smile, and I began snapping away as he said, "They tell me I have enough photos of me smiling, so I need a few serious ones."  So, I took a few serious ones, but honestly, I didn't find any bad photos.  The camera obviously loves him.

I had so much fun and met so many wonderful photographers and lovely, and handsome young people wanting to beef up their portfolios.  I would highly recommend Mark Behren's Portfolio Workshop…it's hard work, but well worth the effort.  I haven't had much time to go through my more than 700 photos of this event, but I'll put up some of my best shots as the week goes on.